About Us
When you're searching for the best car hire deals it makes sense to compare the prices on offer. That's where CarHirePhuket.com steps in — We scan all the main car rental companies in Phuket and Thailand to always find the cheapest car rental deal available when you search.




Lowest Cost Web-based Car Rentals
As a web-based service we cut down the costs so you pay less for your car rental. We don't staff big call centres, or multiple offices, but we do offer the very best customer care:
Booking Amendments & Cancellations: Simply visit the Booking Management Portal to make changes to your booking (subject to availability and potential changes in pricing), or to cancel your booking (subject to the Booking Conditions);
24/7 Email Support: Visit the Booking Management Portal to send your enquiry;
Ask a Question Visit the Contact Page to contact us directly.
Phuket-based, Phuket-focused, with an eye on Thailand
We're based in South Phuket, and we know all about this beautiful island. We've turned that local knowledge into lots of supporting content related to each hire location you can collect your hire car from. We combine local knowledge with local service to bring you everything you need to hire your holiday vehicle, enjoy your holiday, and more…
You can find background information, images, maps, amenities, events and general things to do on each of our hire location pages. The site is updated regularly, and you'll always find a good selection of upcoming events for your forthcoming holiday.
Being Phuket-based means we can also offer the same great service for other locations in Thailand — simply browse through our Thai car rental locations to compare the best current deals available.
Get in Touch!
We'd love to hear from you — whether it's a pre-sale question, or useful feedback about our website (this is really valuable to us), we're always happy to hear from you. Details are all on our Contact Page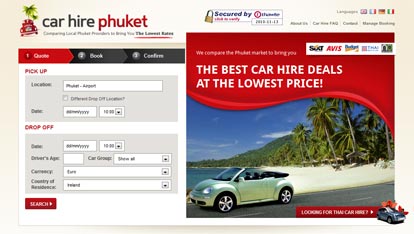 About Us
We have one goal - find the cheapest rental deals available in Phuket and Thailand. We compare all leading Thai providers in real-time to bring you the lowest rates. Find the best Phuket rental deal today!
About Us

How It Works

Car Hire FAQ

Contact

Manage Booking

Privacy Policy

Terms & Conditions

Interesting Sites
How to Hire
Enter Your Details Simply select your pick-up and drop-off dates and locations, and enter your age, currency and country of residence

Select the Best Deal We'll show you the cheapest car hire deals from local car rental companies operating via Phuket and Thailand.

Book the Best Deal Securely book cheap car hire, with the reassurance of free booking cancellations and amendments*.
Most Popular Hire Locations