Driving In Thailand
If you want to know the skinny on Thai driving rules and laws you've landed in the right place. Here's a run-down on driving here in Thailand from a legal and regulatory point of view.
---
Quick Links to Page Sections:
---
Q. What Side Of Road do You Drive on in Thailand?
A. In Thailand You Drive on the Left Hand side
The very first thing you need to know is that driving in Thailand follows the left-hand driving rule of the road.
That's the theory. As some of you will likely know theory and practice don't always converge. So now for the second thing you need to know before you drive here: very often Thai motorists, especially those on motorcycles, will drive the wrong way up the hard shoulder of the road. This behaviour is most often encountered outside of cities and 'upcountry'.
In some cases you may encounter cars or trucks driving against traffic on dual-carriageways, so you should be on your guard when driving along stretches of two lane highway. Even in Phuket you'll encounter people driving on the wrong side of the road every day, so be careful.back to top
Q. How Good Are Thailand's Roads?
A. Thai Roads are of a Good Standard, Especially in Urban Areas
Many visitors to Thailand are surprised by the quality of Thai roads, especially in cities and developed tourist destinations. All major cities and regions are connected by a highway network consisting of 2 and 4-lane roads.
Highways will often include junctions and median breaks allowing for u-turns. It can take a little getting used to initially, but do take care of u-turn traffic as often the "biggest car rule" is used – some Thai drivers will expect you to give way if they are driving larger cars or trucks.
Thailand has a small motorway network, largely concentrated in the Bangkok area. Bangkok is also serviced by "Expressways", many of which are toll roads. Tolls are generally quite low — 20-40 baht per sector — but well worth paying to avoid the infamous rush-hour traffic jams in Bangkok.
In Phuket you'll find that the roads are generally of an excellent condition, with new road constructions to link various districts and towns being added regularly. Do take care at major junctions and roundabouts — especially those at Jungceylon and Tesco Lotus (about 1.5km north of Jungceylon ), and the Chalong roundabout — where the "rules" of the road often depend on who you speak to.
Traffic lights are in place across the island, and do take care at night of motorists who run red lights – it does happen from time to time.back to top
Q. What is the Speed Limit in Thailand?
A. The Speed Limit in Thailand Ranges from 60 to 120kph
Generally in towns and cities the speed limit is 60kph. When driving on highways the speed limit increases to either 100kph or 120kph depending on the road. The bad news is that actual speed limit signs are rare in Thailand. You'll often see a sign stating "City Limits – Reduce Your Speed", but rarely will signs include the actual speed limit for that zone. Take care however – speeding is a very serious problem on Thai roads, and each year many people are killed in road traffic accidents.back to top
Q. Does Thailand Have Good Road Signage?
A. Road Signage in Thailand is generally in English and Thai
In Phuket the road signage is generally excellent. Around Thailand major roads carry signage in both Thai and English, so you should have no difficulty in getting from one major town to another. Inside towns and cities signage can be less useful, and having a GPS can save you time and bother.
Don't be afraid to ask for directions – Thai people are happy to help, and often enjoy talking with "Farrangs".
As you venture more off the beaten track, and especially "upcountry", you might find signage more sporadic, and do take extra care on smaller roads which can often turn into mud tracks without warning.back to top
Q. What are the Laws About Seat Belts and Motorcycle Helmets?
A. Seat Belts and Motorcycle Helmets are Compulsory in Thailand
The wearing of seat belts in car front seats and helmets on motorcycles is compulsory in Thailand. In reality many drivers and motorcyclists flout the laws, but we recommend that you protect yourself as best you can when travelling on Thai roads.
Every year over 12,000 people lose their lives on Thai roads, and the figures always show a strong surge in accidents around the major Thai celebrations of New Year and Songkran (Thai New Year).back to top
Q. Is Drink-Driving Legal in Thailand?
A. Drink Driving is Illegal in Thailand
As with most countries around the world, drink driving is illegal in Thailand. However drink-driving is a problem here and, as with many other driving laws in Thailand, you may find that enforcement of drink-driving law is less prevalent than in your home country. Be aware of drivers around you, especially at night, and be prepared for the unexpected.back to top
Q. What Should I Know About Thai Motor Insurance?
A. Motor Insurance in Thailand
In Thailand insurance covers the motor vehicle and not the driver, as is found in some Western countries. You'll be happy to know that all rental cars booked on CarHirePhuket.com come with full insurance, and Collision Damage Waiver (CDW) is included when you hire any car (check the specific terms of your rental during booking for more info). Bookings also include Vehicle Theft Waiver, Liability Insurance and Breakdown Assistance so you'll be well covered should you have any problems while driving here.
If you choose to rent from smaller "side-of-the-road" rental companies, and Phuket has these on every street, be aware that they rarely if ever include insurance, regardless of what the staff or owner might tell you. You may have to suffer an accident to learn this truth, so renting from one of the major hire companies here offers a layer of security that is well worth investing in.
CarHirePhuket.com includes rentals only from the large well-known companies Nu, Sixt, Budget, Thai-Rent-A-Car and Avis. We offer 7 Phuket Car Hire Locations and over 35 car rental locations in Thailand, so we can supply car rentals no matter where you visit or stay.back to top
Q. What Should I Do if Stopped at a Police Checkpoint?
A. Police Road Blocks and Spot Checks
The Thai police often set up road blocks on major roads to check vehicle documentation and check for drunk drivers. You should always carry your valid Driver's License when you drive, and carrying a photocopy of your passport is also a good idea if you choose not to carry the real thing.
Fines are levied for failing to produce valid documents or not wearing motorcycle helmets. You may be asked to surrender your driver's license in the case of a fine – it will be returned to you once you pay the fine at the prescribed Police Station (the Police Officer will tell you where when they issue you with the fine).
Always be polite to Thai Police Officers, and sometimes you can "settle" fines on-the-spot which will save you journey to the local Police Station.back to top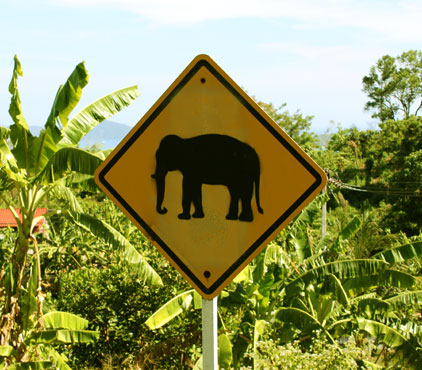 About Us
We have one goal - find the cheapest rental deals available in Phuket and Thailand. We compare all leading Thai providers in real-time to bring you the lowest rates. Find the best Phuket rental deal today!
About Us

How It Works

Car Hire FAQ

Contact

Manage Booking

Privacy Policy

Terms & Conditions

Interesting Sites
How to Hire
Enter Your Details Simply select your pick-up and drop-off dates and locations, and enter your age, currency and country of residence

Select the Best Deal We'll show you the cheapest car hire deals from local car rental companies operating via Phuket and Thailand.

Book the Best Deal Securely book cheap car hire, with the reassurance of free booking cancellations and amendments*.
Most Popular Hire Locations