Car Hire in Rawai – Evason Phuket Resort
The Evason Phuket Resort is uniquely located on its own peninsula on the bay side of Phuket Island. Just 45 minutes by car from Phuket International Airport, this resort's ideal location at the southern end of the island offers the perfect home base for your Phuket car rental.
Renting a car could not be easier at this resort, and by using CarHirePhuket.com (at the Evason Phuket Resort), you can reserve your Phuket car and have the keys delivered right to your luxurious Pool Villa Suite.
CarHirePhuket.com offers a wide selection of new and air-conditioned vehicles suited for all forms of island exploration, from rugged jungle driving to sleek nightlife cruising, all had at the lowest rates on the island.
Start your search now — enter your hire dates, check real-time car rental deals from the 5 top Phuket car rental companies, then book whichever vehicle class to enjoy your drive at the cheapest rates available at Rawai Beach. It's easy, convenient and secure, and what's more you can cancel or amend your booking without charge. Find cheap Rawai car rentals now!
Budget Car Hire – Toyota Yaris

1.4 Litre, Automatic, Aircon, Radio CD Player, 5 Door, Seats 4

Executive Car Rental – Nissan Maxima

2.2 Litre, Automatic, Aircon, Radio CD Player, 4 Door, Seats 5

Luxury Car Hire – Mercedes E-Class

3.0 Litre, Aircon, Radio CD Player, 4 Door, Seats 5

7 Seat Car Rental – Volkswagen Touran

2.5 Litre, Automatic, 4WD, Aircon, Radio CD Player, 5 Door, Seats 7

9 Seat Car Rental – Toyota Van

2.5 Litre, Automatic, 4WD, Aircon, Radio CD Player, 4 Door, Seats 9
back to top
Rawai Pick-up/Drop-off Point
Car Rental Rawai/Nai Harn – Hire all car types at best rates from leading Thailand rental companies in Rawai and Nai Harn:
100 Viset Road,
Moo 2,


Rawai

,


Phuket

83130

,


Thailand
This Car Hire Phuket page contains the Rawai and Hai Harn car rental location details. www.carhirephuket.com
CarHirePhuket.com permalink for this page: Car Hire Rawai and Nai Harn
back to top
The Most Glorious Sunset in Asia
The Evason Phuket Resort is located on Rawai Beach and is set amid 64 acres of landscaped tropical gardens and designed with unique features and a philosophy of providing rejuvenation and enlightenment for all visitors.
Located in the southern tip of Phuket, Rawai offers many beautiful and unspoilt vistas including one of the most visited sunset locations in Thailand – Promthep Cape. Resorts in Rawai typically offer luxurious settings to visitors, with most modern necessities within driving range. Visit PhuketPictures.com for many photos of Rawai and southern Phuket.
For example, the Evason Phuket Resort offers open island style accommodations and outdoor tubs in a private setting. Some suites even have attached private pools with views overlooking the Andaman Sea.
A large spa compound augments the rejuvenating experience, with 3 floors of spas with open-air treatment centers that face the sea. The resort also includes its own private island, and on Bon Island you will find pristine white sand, swimming, and snorkeling provided just for Evason Phuket Resort guests.
Some of the other amenities this resort is famous for: a two-story open pool bar, 3 large swimming pools, a wine cellar, and a huge fitness center that offers Yoga, Body Balance classes, and Thai Boxing.
Out and About in Rawai
Outside the resort you will find many fantastic local restaurants offering the freshest of seafood and Thai cuisine, along with a small number of night time establishments where you can unwind while enjoying the night life.
Why Hire a Car?
Rawai is a low density area, and a hire car will greatly improve your stay. For the cheapest Rawai car rental rates simply use the CarHirePhuket.com comparison engine and let us do the rest. It's all 100% secure, and there are no cancellation charges as long as you follow the conditions of hire.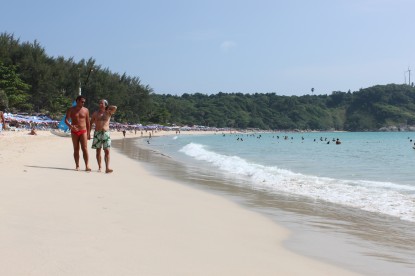 back to top
Getting Out and About in Rawai
As the Evason Phuket Resort is located in the southern tip of Phuket, your Evason Phuket Resort car rental gives you access to the entire island, where Phuket City is just 20 minutes away and Patong Beach is just 40 minutes to the east.
But for those staying within the environ of the resort, there is a professionally managed Kid's club for those between 4-12 years of age, and this club even offers closely supervised "sleepovers" – allowing parents to explore Phuket on their own during the late evening hours.
Island Hopping
With the resort's proximity to nearby islands, you can take a resort-organized excursion to Bon, Phi Phi, and Racha islands, as well as shorter moonlight and sunset cruises that depart right from the resort's own dock.
Also departing from the resort are East Coast Snorkeling tours, Night Fishing in Longtail Boats, and a Phang Nga Bay Tour that takes you to the famous James Bond Island, as well as to Panyi Village for a traditional Thai island lunch.
Eating Out
Rawai has some of the best seafood restaurants you're likely to find in Phuket. You'll be spoilt for choice with a wide variety of cuisines available alongside the best Thai food you're likely to eat for quite some time.
Rawai beach front is home to more than 40 eating establishments, and nearby Nai Harn also an incredible number of eating and drinking establishments. if you'd like to learn more about Rawai we suggest you check out the Rawai guide (visit site) over on 1stopPhuket.com.
Get Your Nails Done
Beauty, and the grooming required to bestow it, have very strong cultural undertones in Thai society. Thai women (and often it's men) are renowned for their beauty, but every women knows that it often requires a lot of work to look good. While in Phuket you must have the obligatory manicure and pedicure, and beauty salons are located on most streets you'll visit.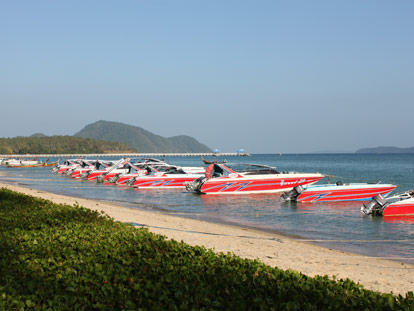 2023Nov
Chao Nam (Sea Gypsy) Setting Adrift Boats Ceremony
Rawai, Sapam, Koh Sirey, Lam Lah
Twice annually, before monsoon and after
In the middle of the 6th and 11th month of each year, the sea gypsies of Phuket celebrate for 3 days in dance (Rahm Rong Ngeng), drink, and boat making. An elaborate boat called a "prahu" is built that contains clippings of hair, small doll effigies and other personal effects, and then is set adrift by the gypsies in hopes of driving away all suffering and sorrow. The sea gypsy villages in Rawai and Sapam hold their ceremonies on the 13th, Koh Sirey celebrates this festival on the 14th, and Lam Lah on the 15th.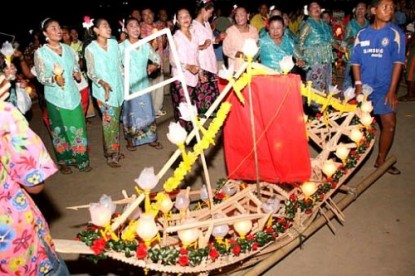 back to top
About Us
We have one goal - find the cheapest rental deals available in Phuket and Thailand. We compare all leading Thai providers in real-time to bring you the lowest rates. Find the best Phuket rental deal today!
About Us

How It Works

Car Hire FAQ

Contact

Manage Booking

Privacy Policy

Terms & Conditions

Interesting Sites
How to Hire
Enter Your Details Simply select your pick-up and drop-off dates and locations, and enter your age, currency and country of residence

Select the Best Deal We'll show you the cheapest car hire deals from local car rental companies operating via Phuket and Thailand.

Book the Best Deal Securely book cheap car hire, with the reassurance of free booking cancellations and amendments*.
Most Popular Hire Locations