Phuket & Thailand Related Websites of Interest
From time-to-time we come across other Phuket-related websites that might be useful to you. We also list Thai-related websites that we've met on our online travels. While we don't endorse third-party products or services, we do hope some of these sites might be of interest.
Phuket Baby Equipment Rentals
Phuket Baby Rentals
Handy Phuket service for renting baby equipment for your stay, including car baby seats. Site is multi-lingual and offers both CC payment and cash on delivery.
Phuket Travel Related Websites
Travel Phuket
Phuket travel information and Phuket hotel reservation service. Website includes hotel listings at all Phuket locations and a number of nearby islands.
Patong Beach Guide
Concise, useful information about Patong Beach, and how to get there.
Phuket North
Website dedicated to the northern part of Phuket island, with useful guides and reference material for visitors to that region of Phuket.
Phuket Photo Websites
Phuket Photo Shot
Nice collection of Phuket images, including good quality photos of most major beaches.
Phuket News and Events Sites
Phuket Event
Phuket Events Calendar, by far the largest in Phuket. Public holidays, festivals, boat shows, regattas, golf tournaments, parties, sports events, concerts, seminars…
Phuket Event
Phuket's best known English-language newspaper. Includes a well-maintained events calendar containing public holidays, festivals, boat shows, regattas, golf tournaments, parties, sports events, concerts, seminars and more.
Phuket Related Websites
Phuket Thailand Websites
Selection of Phuket websites which are human-reviewed before listing. Parent website covers most major locations in Thailand.
Phuketdining.com
Comprehensive listings of Phuket restaurants including reviews and location/contact details.
Phuket Hotel Thailand
Peach hill Resort is located between 2 of Phuket's best known and popular beaches — Kata and Karon — on the beautiful island of Phuket, Thailand.
Resort in Phuket
Set atop the hills overlooking Kata Beach, the Andaman Cannacia offers fantastic views across the bay, and luxurious accommodation all within walking distance to Kata Noi beach.
Spa Hotel in Kata
One of Phuket's most modern hotels, the Peach Blossom sits in the hills overlooking Kata surrounded by lush green gardens.
Peach Blossom Resort from Peach Group
Website of the Peach blossom Resort, a hotel resort located in the Kata-Karon area on the sunny west coast of Phuket, Thailand.
Avantika Patong Beach Resort
One of only a handful of boutique hotels in Patong, the Avantika offers a peaceful getaway right in the middle of Phuket's busiest tourist destinations.
Seaview Patong Hotel
Located at the quiet end of Patong beach, the Seaview Patong Hotel gives great access to the beach, with some relief from the busier central part of the beach and entertainment zone.
Andaman Seaview Hotel Karon
Few hotels are located on the beach side of the road, and the Andaman Phuket 4-star Karon resort gives great access to the beach, with some relief from the busier central part of the beach and entertainment zone.
"By The Sea" Resort, Chalong Bat
This Phuket beach resort sits far away from the hustle and bustle of Phuket's major tourist towns, and therein lies the attraction. Relax away from the distractions, with all the convenience of being just a short hop from the areas favourite attractions.
Cloud 19
This superb little resort has some of the top ratings on TripAdvisor.com, and really is one of Panwa's best beachfront resorts. If you want to get away to some private luxury this is THE place to go.
Rising Sun Residence
Based on the quieter (and more beautiful) eastern coast of Phuket, the Rising Sun Residence offers luxurious Phuket private villas with spectacular views of Chalong Bay.
Mission Hills Golf Resort and Spa
Offers Phuket golf packages on one of Phuket's finest golf courses, the Jack Nicklaus designed Mission Hills.
The Vijitt Resort Phuket
Located just minutes from the CarHirePhuket.com base, we can safely attest to this resort being a gem of a hotel. If you're looking for a really amazing resort to chill for a week or 2 then we suggest you check out the Vijitt Phuket luxury hotel and resort.
Fisherman Way – One of the best views on the East Coast
Fisherman Way in Chalong offers a safe and cosy community of beach houses and bungalows, with magnificent views out to the East coast of Phuket. A unique feature is the managed wildlife including caribou, swans and buffaloes. A superb community swimming pool makes Fisherman Way a great location for families, and the great location close to international schools makes Fisherman Way an ideal place to call home while staying in Phuket. Check out their website for selection of available houses or if you are looking for a Phuket bungalow with magnificent beach-front sea views.
Krabi Related Websites
Tubkaak Resort
Not your regular tourist getaway &madsh; the Tubkaak is an ideal getaway from the concrete jungle and career rat-race. This glorious Krabi hotel is tucked away in the idyllic Phang Nga region of Thailand.
Peace Laguna Resort
Nestled away around a lush lake, the Peace Laguna Resort is a modern and luxurious spa hotel in Krabi which keeps a close connection with the amazing nature of it's surrounding area. A more magnificant backdrop to a resort will be hard to find anywhere on Earth.
Krabi Aquamarine Resort & Spa
Luxurious Ao Nang resort offering privacy next to the spectacular natural limestone cliffs of Krabi. If you want to relax in a truly mesmerising natural location then this is definiitely one for your short list!
The Veranda
Guesthouse in Ao Nang offering bed and breakfast within easy reach of the beach. Rooms are clean and well maintained, with rates from 900 Baht per night.
Koh Samui Websites
Mai Koh Samui Spa Hotel
Paradise. Picturesque and secluded, this 5-star Koh Samui Spa Hotel has it all, right on the beach — Mai Samui Beach Resort & Spa, Koh Samui.
Mai Resorts
Mai Resorts in Phuket, Phang Nga, Krabi and Koh Samui offer the ideal wedding hotel in Koh Samui to swap nuptials. With stunning backdrops, and fantastic facilities, the Mai Resorts can meet every wedding desire.
Bangkok Websites
S15 Sukhumvit Hotel
This boutique hotel nestles in the middle of Bangkok's entertainment area. Located on Sukhumvit Soi 15 (from which the hotel's name is derived) the S15 is well worth consideration for travellers looking for a stylish and well priced hotel in Bangkok.
S31 Sukhumvit Hotel
This super modern luxury hotel takes its name from its Soi 31 location. Based close to the Skytrain, the S31 offers luxurious comfort to both business and leisure travellers. Certainly a contender for the best new luxury Bangkok hotel. Check their site or call for best rates.
Travel Related Websites
Tourist Pick Travel Directory
Interesting travel directory comprising selective listings of global travel related websites.
Suggest Websites
If you know of other Phuket-related websites that might be useful to our visitors please Contact Us.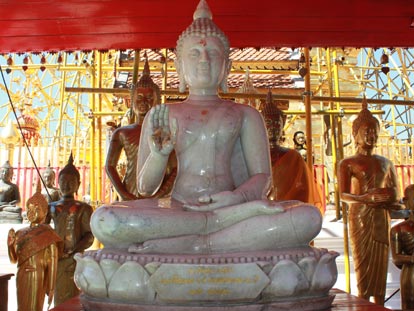 About Us
We have one goal - find the cheapest rental deals available in Phuket and Thailand. We compare all leading Thai providers in real-time to bring you the lowest rates. Find the best Phuket rental deal today!
About Us

How It Works

Car Hire FAQ

Contact

Manage Booking

Privacy Policy

Terms & Conditions

Interesting Sites
How to Hire
Enter Your Details Simply select your pick-up and drop-off dates and locations, and enter your age, currency and country of residence

Select the Best Deal We'll show you the cheapest car hire deals from local car rental companies operating via Phuket and Thailand.

Book the Best Deal Securely book cheap car hire, with the reassurance of free booking cancellations and amendments*.
Most Popular Hire Locations