Car Hire in Bangkok City Downtown
Bangkok is not only the capital of Thailand, but also one of the most famous of cities in the world, and an economic hub for all of Asia. And to traverse the large urban sprawl where over 12 million people live, work and play, Car Rental Bangkok is here to help you find the best vehicle possible.
We will soon launch a new product offering Guaranteed Lowest Pricing for Bangkok car rentals. You can sign-up for a special introductory 5% discount hire coupon at CarRentalBangkok.com.
Ideally located on New Petchburi Road, Bangkapi Huay Kwang, CarHirePhuket.com's pick-up location is an alternative place to rent in Bangkok – instead of travelling to one of the busiest airports in the world, you can pick up your car from the relative calm at city center instead.
Bangkok car rentals come with a wide selection of vehicles and deals to choose from, and there are plenty of new cars geared towards city driving: fully automatic, air conditioned, and easy to park, as well as being easy on the wallet, a Bangkok hire car will get you to your destination with ease. Start your search now to find the lowest rates for rental in Bangkok — the best deals are waiting for you today.
Budget Car Hire – Toyota Yaris

1.4 Litre, Automatic, Aircon, Radio CD Player, 5 Door, Seats 4

Executive Car Rental – Nissan Maxima

2.2 Litre, Automatic, Aircon, Radio CD Player, 4 Door, Seats 5

Luxury Car Hire – Mercedes E-Class

3.0 Litre, Aircon, Radio CD Player, 4 Door, Seats 5

7 Seat Car Rental – Volkswagen Touran

2.5 Litre, Automatic, 4WD, Aircon, Radio CD Player, 5 Door, Seats 7

9 Seat Car Rental – Toyota Van

2.5 Litre, Automatic, 4WD, Aircon, Radio CD Player, 4 Door, Seats 9
back to top
Bangkok Downtown Pick-Up/Drop-Off
Car Rental Bangkok City Downtown – Hire cars with all car types available from leading Thailand rental companies in Bangkok City:
1st Floor, 2371 Petchburee Building, Petchburee Road,

,


Huay Kwang

,


Bangkok

10320

,


Thailand
This Car Hire Phuket page contains the Bangkok City Downtown car rental location details. www.carhirephuket.com
CarHirePhuket.com permalink for this page: Car Hire Bangkok
back to top
Bangkok, the City that Never Sleeps
Bangkok, now an international force in finance, business, culture, fashion and entertainment, is a city that never rests, but instead marches on 24×7 with folks filling the bustling expressways, transit lines, bus routes and rail services that feed the rest of the country.
But Bangkok was not always so dynamic. Back in 1688, Bangkok was no more then a small village held by the French who were posted to a small fort, which today is known as Thon Buri. Thon Buri remained less developed then the rest of the city until Thon Buri and Bangkok were merged in 1972, making the combined city the largest in the nation, with just less then 2 million as the population statistic.
Today, with over 12 million inhabitants, little remains of the original site where villagers once traveled by way of khlongs and long boat to and from their stilt houses and businesses.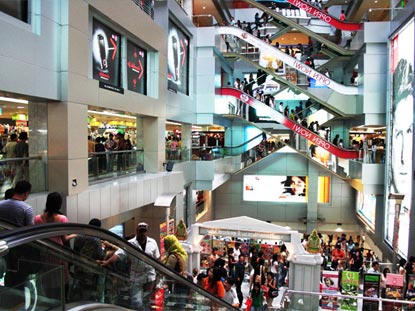 back to top
Things To Do in Bangkok City
The question one asks instead of "What to do in Bangkok?" is "What have we time left to do?" as the fast pace of the city and the shear number of things to do are mind-boggling. Here are a few things that may help slow things down a bit:
Visit the Jim Thompson House: Jim Thompson was the American businessman said to have revived the Thai silk business back in the 1950's and 60's. He was also an avid collector of SE Asian art, and after his mysterious disappearance in Malaysia in 1967, his collection and his home was turned into a museum. His originally-styled stilt Thai home and art collection make for one of the most visited attractions in the nation, and this peaceful and restful setting will take you back years to a time when life was less busy.
Visit the Temple of Dawn: during the morning or the evening, the Temple of Dawn, or War Arun, is both beautiful and relaxing to behold. The temple itself is decorate with seashells and bits of old porcelain ballast from ancient ships that once travelled from China to Bangkok. In the early or evening light, the structure shimmers with an iridescence, while the Trident of Shiva atop the temple casts a long shadow over the compound, but not across one's soul.
Recline with Buddha at Wat Pho: as this temple speaks to one's ego by way of a huge golden Buddha statue in the reposed position. This statue is over 150 feet long and over 49 feet high, and is the largest Buddha image in the country. The Reclining Buddha was built in honor of King Rama III, and is decorated with gold leaf and has eyes and soles inlaid with mother of pearl. The temple is also the birthplace of Thai Massage, which is another relaxing feature of the temple.
There really are no limits to the activities in a fantastic city like Bangkok, and you can find many great Bangkok day trip suggestions on 1StopBangkok.com, as well as TripAdvisor.
Events near this time of year
If you are looking for a few places to drive to with your Car Hire Bangkok Downtown rental, look no further then here (updates depending on time of year):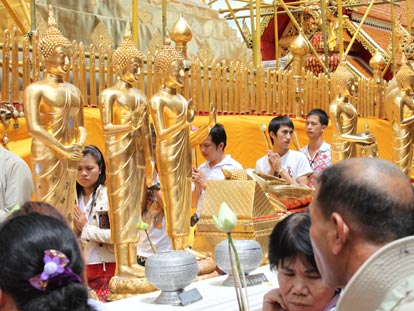 2023Oct
Thai Zombie Walk
Siam Paragon, Sukhumvit
Annually in mid-October
Bacardi and The Sukhumvit Soi 11 Association host this annual costumed event where all dress as Zombies and compete for prizes and walkabout the Sukhumvit area for fun and scares. Also part of the scare is a toy drive to benefit the Lotus Flower Foundation and its work to eradicate child abuse. After-walk parties are held at The Nest, Le Fenix, and Q Bar.
Photo: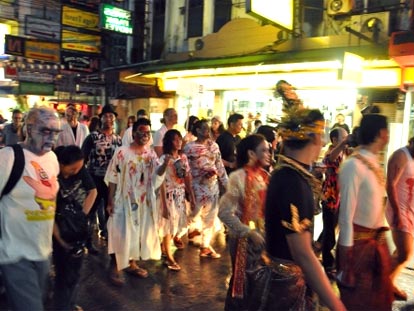 2023Dec
Sukhumvit Club Crawl
All over Sukhumvit Road, Bangkok
Monthly throughout the year
This is probably the best way to sample the varied clubs in the area, as you are given VIP status and discount drinks for the entire "crawl" to such famous clubs as Nest Rooftop, Q Bar, and Bed Supper Club. What started out as an annual affair has grown to a monthly event, and each crawl runs over 2 or 3 days!
Find out more on the Club Crawl Facebook Page: Suk Club Crawl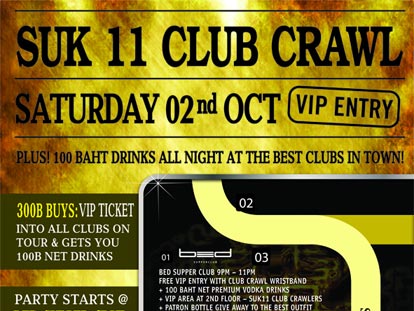 2023Feb
Beer Garden Walking Tour
Various Sois, Sukhumvit, Bangkok
Annually during winter season
During the "colder" part of the year, Sukhumvit becomes home to numerous "beer gardens" where you can sample some of the best home brew in the world. Just take a self-tour of the following areas to sample some great beers that always come served with live entertainment:
Singha Beer Garden, Asoke Rd (near MRT Sukhumvit)
Old German Beerhouse, Soi 11
Cheap Charlies, Soi 11
Beer Garden Soi 7, Soi 7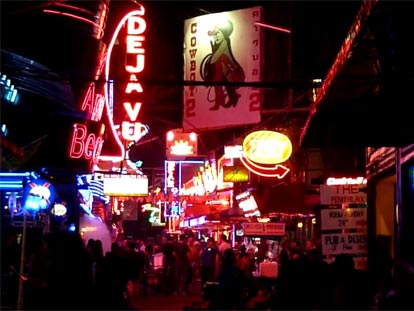 back to top
About Us
We have one goal - find the cheapest rental deals available in Phuket and Thailand. We compare all leading Thai providers in real-time to bring you the lowest rates. Find the best Phuket rental deal today!
About Us

How It Works

Car Hire FAQ

Contact

Manage Booking

Privacy Policy

Terms & Conditions

Interesting Sites
How to Hire
Enter Your Details Simply select your pick-up and drop-off dates and locations, and enter your age, currency and country of residence

Select the Best Deal We'll show you the cheapest car hire deals from local car rental companies operating via Phuket and Thailand.

Book the Best Deal Securely book cheap car hire, with the reassurance of free booking cancellations and amendments*.
Most Popular Hire Locations