Car Hire in Chiang Mai (Downtown)
Chiang Mai, which is sometimes spelled "Chiangmai" or "Chiengmai," is the most culturally significant and largest city in northern Thailand. Located 700 kilometers north of Bangkok and set amid the highest mountains in the country, this city is indeed one of Thailand's most precious of jewels.
For those considering a road trip traversing Thailand from one end to another, Chiang Mai city is the perfect place to pick up your rent-a-car to start the journey.
CarHirePhuket.com's super low Chiang Mai rental rates and unbeatable selection of cars make this pick-up point much preferred over all others. Start your search now to find cheap Chaing Mai car deals from the top Thai rental companies — you'll find our service next to none!
Budget Car Hire – Toyota Yaris

1.4 Litre, Automatic, Aircon, Radio CD Player, 5 Door, Seats 4

Executive Car Rental – Nissan Maxima

2.2 Litre, Automatic, Aircon, Radio CD Player, 4 Door, Seats 5

Luxury Car Hire – Mercedes E-Class

3.0 Litre, Aircon, Radio CD Player, 4 Door, Seats 5

7 Seat Car Rental – Volkswagen Touran

2.5 Litre, Automatic, 4WD, Aircon, Radio CD Player, 5 Door, Seats 7

9 Seat Car Rental – Toyota Van

2.5 Litre, Automatic, 4WD, Aircon, Radio CD Player, 4 Door, Seats 9
back to top
Pick-Up/Drop-Off in Chiang Mai City
Car Rental Chiang Mai – Hire cars with all car types available from leading Thailand rental companies in Chiang Mai City:
281/8 A-Rak Road,

,


Phasingha

,


Chiang Mai

50200

,


Thailand
This Car Hire Phuket page contains the Chiang Mai car rental location details. www.carhirephuket.com
CarHirePhuket.com permalink for this page: Car Hire Chaing Mai
back to top
Chiang Mai, Cool Jewel in the North
Chiang Mai is a beautiful city that offers the visitor a choice of modern lifestyles as well as one of yesteryear. It is also a city of progressive social changes and of education centers for all types of skills, to include Thai cooking and Thai massage.
Inhabitants of the city mostly speak Kham Muang (Lanna, or northern Thai) while the more common Central Thai is used in schools and businesses. However, due to Chiang Mai's growing business and educational class, you will find many folks and establishments fluent in English.
The city emblem of Chiang Mai is a chedi (stupa) at the center, and there are clouds below that symbolize the area's moderate climate. In Chiang Mai, temperature and rainfall are more bearable then in the most southern parts of the country.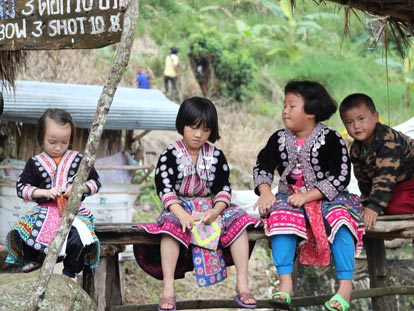 back to top
Things To Do & See in Chaing Mai
This part of Thailand offers the traveler that has had enough of beaches and islands a lovely respite from surf cities and unsteady footings over water. Chiang Mai is most noted for the many mountain adventure opportunities; and here are just a few:
Hill-tribe Trekking: nearby to Chiang Mai you will find the villages of the Akha, Hmong, Karen, and Lisu tribes where one can arrange for a tour into a world that time has mostly forgotten.
Free Weekly Guided Hikes: are offered by the Chiang Mai Hiking Club that will walk you deep into the Doi Pui Suthep National Park, and this club has also posted a map of the hiking trails on their web site, just in case you want to go at it alone.
Chiang Mai Night Safari: was established as an evening and late night attraction and is one of only three other nocturnal nature theme parks in the world. Funded by the Thai Government, this safari is twice as large as the one in Singapore, and is the perfect place to see such night predators as tiger, lion, and the Asiatic black bear.
There are many great sites offering information about Chiang Mai: LonelyPlanet.com, 1Stop Chaing Mai travel and hotel guide, and the offical Tourism Thailand site.
Chiang Mai offers a full public social calendar, and here are just a few of the better-known entries which we update all year round: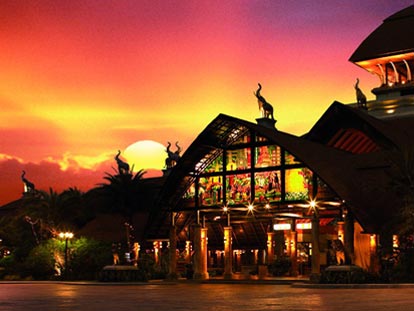 2023Dec
Suan Chom Nan Park Festival
Suan Chom Nan Park, Phitsanulok
Bi-annually
These festivals are held along the Nan River, and during which local food and products are easily had at great prices. Also highlighted are the regattas of long boats that traverse the river in celebration.
Nov21
Loi Kratong (Yi Peng) Festival
Chiang Mai
Annually during November
Each year tens of thousands of people assemble to participate in the floating of decorated banana-leaf containers (krathong) on the city's numerous waterways. Khom Fai (Lanna-style sky lanterns) are launched into the air and believed to rid the locals of trouble and strife, and to also pay tribute to the Goddess of Water.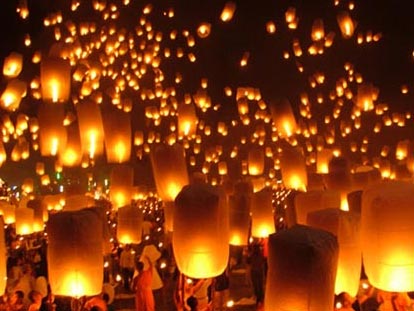 back to top
About Us
We have one goal - find the cheapest rental deals available in Phuket and Thailand. We compare all leading Thai providers in real-time to bring you the lowest rates. Find the best Phuket rental deal today!
About Us

How It Works

Car Hire FAQ

Contact

Manage Booking

Privacy Policy

Terms & Conditions

Interesting Sites
How to Hire
Enter Your Details Simply select your pick-up and drop-off dates and locations, and enter your age, currency and country of residence

Select the Best Deal We'll show you the cheapest car hire deals from local car rental companies operating via Phuket and Thailand.

Book the Best Deal Securely book cheap car hire, with the reassurance of free booking cancellations and amendments*.
Most Popular Hire Locations