Terms & Conditions
At Car Hire Phuket, we focus on Phuket and Thai car hire deals to offer our users the best choice and value on local car rental. Our website instantly shows you the best real-time prices available from major car hire companies. When you make a booking, you will be bound by the Terms and Conditions of the company whose quotation you choose. You book through our website but your booking will be with the car hire provider.
By using this website you are deemed to have accepted these terms and conditions of use:
Bookings

This website allows users to place car hire bookings and pay for those bookings. By placing a booking the user implicitly understands that the vehicle is being provided by a third party, and that the contract created is direct with that third party.

Security

This website utilises industry-standard SSL encryption to protect your personal and financial details. You can check the validity of our security at any time by clicking on the "Secured by Thawte" icon in the header of any page. By entering details into this site the user implicitly agrees for those details to be passed to the thrid party for validation and payment. Your details will not be shared with any third party other than for the purpose of processing your booking. If you would like to learn about your privacy please see our separate Privacy Policy.

Copyright

All copyright, database rights and other intellectual property rights in all the material which comprise the website and service, including but not limited to the designs, structures, layouts, graphical images and underlying software code belongs to CarHirePhuket.com or its partners. All rights are reserved, except for the limited rights expressly granted below.

Your use of CarHirePhuket.com

You are responsible for your use of CarHirePhuket.com and the consequences of any such use. By using CarHirePhuket.com you agree to comply with the following guidelines:
(a) CarHirePhuket.com may only be accessed manually. The use of automated agents, robots, or automated software, other than search engine spiders, to view the site is specifically forbidden.
(b) You may not attempt to build a copy of our data or reverse engineer our processes.
(c) You may use CarHirePhuket.com for your own research, study or other uses that do not infringe the copyright of CarHirePhuket.com and our licensors. You may not publish or reproduce any part of the website without our specific prior written permission.
(d) You must not use CarHirePhuket.com in a way that might be expected to cause it to be interrupted, damaged, rendered less efficient or which could in any way damage the operation of another's computer.

Third Party Web Sites, Goods and Services

CarHirePhuket.com provides links to third party websites that are not affiliated with CarHirePhuket.com. We make no representations as to the quality, suitability, functionality or legality of any sites to which we may provide links, or any goods or services available from such sites, and no such representations should be inferred or construed whether from such provision or otherwise.
All matters concerning any goods and services that you purchase from a third party site, including, without limitation all contract terms are solely between you and the owner of that site, and CarHirePhuket.com will not be liable for any costs or damages to you or any third party arising directly or indirectly out of any third party website.

Disclaimer of Warranties and Limitation of Liability

CarHirePhuket.com is provided on an "as is" and "as available" basis. CarHirePhuket.com expressly disclaims all warranties or representations of any kind, express or implied, to the fullest extent permitted by law. CarHirePhuket.com does not warrant or guarantee the accuracy or completeness of any information in or provided in connection with CarHirePhuket.com. CarHirePhuket.com is not responsible for any errors or omissions or for the results obtained from the use of such information. CarHirePhuket.com shall not be responsible for any loss or damage caused directly or indirectly, by the information or ideas contained, suggested or referenced on CarHirePhuket.com.

Application performance

We aim to keep CarHirePhuket.com available all the time but the user accepts that from time to time the website will be unavailable for reasons including but not limited to software upgrades, hardware upgrades, internet connectivity problems.

Force Majeure

CarHirePhuket.com is not liable for delay in meeting its obligations due to any cause outside its reasonable control including Acts of God, riot, war, malicious acts of damage, fires or electricity supply failure.

Indemnification

You agree to indemnify and hold each of CarHirePhuket.com, its parents, subsidiaries, affiliates, officers and employees, harmless from any claim or demand, including reasonable legal fees, made by any third party due to or arising out of your use of CarHirePhuket.com, the violation of these Terms of Service by you, or the infringement by you, or any other person, of your account, or of any intellectual property or other right of any other person or entity.

Interpretation and Jurisdiction

These terms shall be construed in accordance with Thai law and within the Jurisdiction of the Thai Courts.
Should any provision of these terms be held to be void, invalid, unenforceable or illegal by a court, the validity and enforceability of the other provisions shall not be affected thereby. If any provision is determined to be unenforceable, you agree to a modification of such provision to provide for enforcement of the provision's intent, to the extent permitted by applicable law. Failure of a party to enforce any provision of these terms shall not constitute or be construed as a waiver of such provision or the right to enforce the provision.

Absence of Waiver

Any failure or delay by us to enforce strict performance by you of any of the Terms of Service or to exercise any right under the Terms of Service will not be construed as a waiver to any extent of our rights.

Right to Assign

CarHirePhuket.com may assign its rights and obligations under these Terms of Service and upon such assignment CarHirePhuket.com shall be relieved of any further obligation under these Terms of Service.

About Us

CarHirePhuket.com is a website owned and operated by Richard Hearne, a web marketing professional based in Phuket Thailand, who also owns a Web Marketing Agency — Red Cardinal Ltd. a limited company registered in Ireland number #375725 with its registered address at 7 Rectory Meadows, Edenderry, County Offaly, Ireland. Red Cardinal Ltd. is only affiliated with CarHirePhuket.com through a shared owner.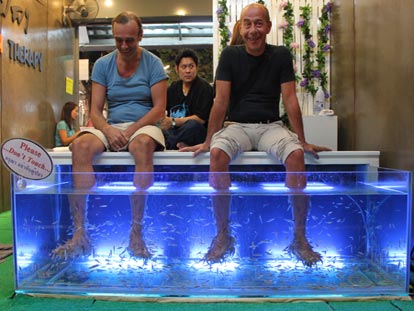 About Us
We have one goal - find the cheapest rental deals available in Phuket and Thailand. We compare all leading Thai providers in real-time to bring you the lowest rates. Find the best Phuket rental deal today!
About Us

How It Works

Car Hire FAQ

Contact

Manage Booking

Privacy Policy

Terms & Conditions

Interesting Sites
How to Hire
Enter Your Details Simply select your pick-up and drop-off dates and locations, and enter your age, currency and country of residence

Select the Best Deal We'll show you the cheapest car hire deals from local car rental companies operating via Phuket and Thailand.

Book the Best Deal Securely book cheap car hire, with the reassurance of free booking cancellations and amendments*.
Most Popular Hire Locations