Car Hire in Bangkok Sukhumvit
Bangkok is one of the most vibrant cities on the planet, and the economic hub for all of Asia. And within the city, the Sukhumvit area is well known for its suburb entertainment, shopping, and dining facilities. And the best way to explore this area is to hire a vehicle from CarHirePhuket.com, where we have a selection of city vehicles tailored just for Bangkok driving.
Coming soon – we'll be launching a new site offering Guaranteed Lowest Pricing for Bangkok car rentals. Sign-up at CarRentalBangkok.com today and receive a special introductory 5% discount hire coupon.
Conveniently located at 2929/9 Soi Sukhumvit 22 (Rama 4 Road), our Bangkok pick-up point is a great place to collect your car rental – and is a much more relaxed hire center then those at one of the busiest airports in the world. Here you can select a rental from one of the most pleasant of stops in all of Bangkok.
CarHirePhuket.com has a huge selection of car rental vehicles to pick from, and has loads of new cars that are geared for inner city driving: fully automatic, air conditioned, and easy to park, CarHirePhuket.com has hires that are easy on the pocketbook, as well as easy to pick up and return.
Start your search now for cheap car hire in Sukhumvit Bangkok, from the top rental providers in Thailand — fantastic Bangkok car hire deals are just a search away. Did we mention that all prices are fully inclusive of taxes and fees, so there are no hidden charges when renting from CarHirePhuket.com, and our city centre location can't be beat!
Budget Car Hire – Toyota Yaris

1.4 Litre, Automatic, Aircon, Radio CD Player, 5 Door, Seats 4

Executive Car Rental – Nissan Maxima

2.2 Litre, Automatic, Aircon, Radio CD Player, 4 Door, Seats 5

Luxury Car Hire – Mercedes E-Class

3.0 Litre, Aircon, Radio CD Player, 4 Door, Seats 5

7 Seat Car Rental – Volkswagen Touran

2.5 Litre, Automatic, 4WD, Aircon, Radio CD Player, 5 Door, Seats 7

9 Seat Car Rental – Toyota Van

2.5 Litre, Automatic, 4WD, Aircon, Radio CD Player, 4 Door, Seats 9
back to top
Sukhumvit Pick-Up/Drop-Off Point
Car Rental Sukhumvit Bangkok – Hire cars with all car types available from leading Thailand rental companies in Soi 22 Bangkok Sukhumvit:
2929/9 Soi Sukhumvit 22, Rama 4 Road

,


Klongtoey

,


Bangkok

10110

,


Thailand
This Car Hire Phuket page contains the Soi 22 Sukhumvit Bangkok car rental location details. www.carhirephuket.com
CarHirePhuket.com permalink for this page: Car Hire Sukhumvit
back to top
Sukhumvit, an exclusive area for travelers and expats alike…
Sukhumvit Road is not only one of the longest roads in Bangkok, but one of the longest roads in the world! From Phloen Chit Road to the west to Rama 1 Road in the east, Sukhumvit is lined with high-rise apartments, shopping malls and eateries — as well as nightclubs and entertainment plazas. This is one area of Bangkok that never sleeps, and offers something for everyone.
Sukhumvit is popular with tourists as well as those that have made Thailand home from abroad, and caters to international travelers like no other area in the city. Sukhumvit intersects with hundreds of Soi (side streets), each with unique character and attractions.
For example, the area between Soi 1 and Soi 63 is mostly populated by expatriates and affluent locals, and is where you will find the most posh restaurants and boutiques. At Soi 4 and between Soi 21 and 23 you will find the infamous red-light districts of Nana Entertainment Plaza and Soi Cowboy respectively.
But even the pavement along the entire length of Sukhumvit has become an attraction over the years, sporting covered market tables and hawkers selling everything from cheap luggage to knock-off Rolex watches, and just about anything else in-between.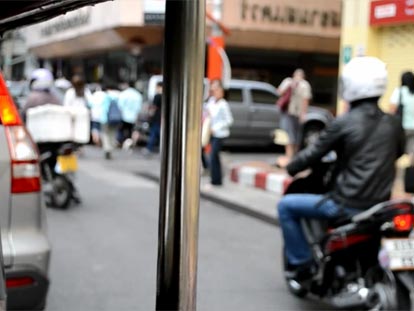 back to top
Things To Do in Sukhumvit
"What to do?" on Sukhumvit Road is not really the question as much as "How much time do you have?" or "What is your interest today?" From furious shopping to a relaxing walk in the park, Sukhumvit has it all; here are just a few suggestions:
Visit a museum: The Thailand Creative and Design Center (TCDC) is located in the Emporium at 928 Sukhumvit Rd. Here you will find great exhibits featuring Thai designs in everything from clothing to high-tech. There is even a free resource library for those that need an in-depth study. The Science Center for Education, also at 928 Sukhumvit, offers a planetarium as well as an aquarium and admission is just 20-40 baht.
Walk your pets at Ozono: Whether you have your pet with you or at home, a walk in this park (Soi 39) is a must for all animal lovers, as it's the only public park in Bangkok where pets are allowed to walk freely, as well as being a rather quirky site to see how lavishly locals dote on their furry loved ones. Here you can find the best selection of pet shops, pet hotels, and even pet restaurants!
Get a checkup or any other medical procedure here: While there are thousands of great restaurants, shops, and bars along Sukhumvit, there is really only one world-class full service medical facility that rivals any in the world: Bunrungrad Hospital at 33 Sukhumvit Soi 33. This is the premiere facility for medical tourism in Thailand, and offers walk-in service for anything from teeth cleaning to major surgery.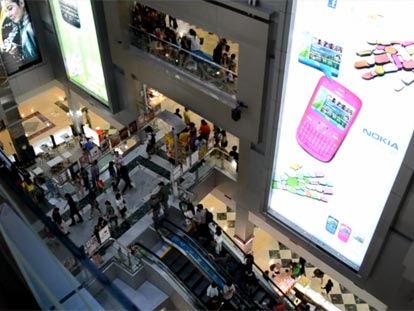 2023Dec
Sukhumvit Club Crawl
All over Sukhumvit Road, Bangkok
Monthly throughout the year
This is probably the best way to sample the varied clubs in the area, as you are given VIP status and discount drinks for the entire "crawl" to such famous clubs as Nest Rooftop, Q Bar, and Bed Supper Club. What started out as an annual affair has grown to a monthly event, and each crawl runs over 2 or 3 days!
Find out more on the Club Crawl Facebook Page: Suk Club Crawl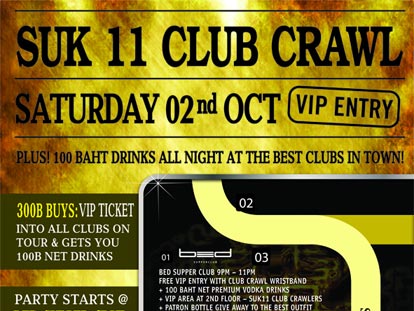 2023Feb
Beer Garden Walking Tour
Various Sois, Sukhumvit, Bangkok
Annually during winter season
During the "colder" part of the year, Sukhumvit becomes home to numerous "beer gardens" where you can sample some of the best home brew in the world. Just take a self-tour of the following areas to sample some great beers that always come served with live entertainment:
Singha Beer Garden, Asoke Rd (near MRT Sukhumvit)
Old German Beerhouse, Soi 11
Cheap Charlies, Soi 11
Beer Garden Soi 7, Soi 7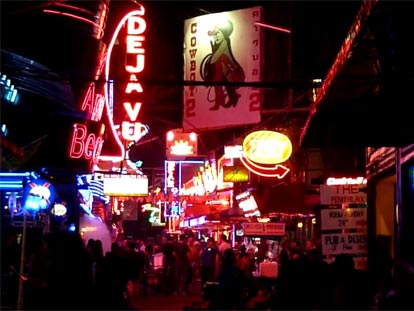 back to top
About Us
We have one goal - find the cheapest rental deals available in Phuket and Thailand. We compare all leading Thai providers in real-time to bring you the lowest rates. Find the best Phuket rental deal today!
About Us

How It Works

Car Hire FAQ

Contact

Manage Booking

Privacy Policy

Terms & Conditions

Interesting Sites
How to Hire
Enter Your Details Simply select your pick-up and drop-off dates and locations, and enter your age, currency and country of residence

Select the Best Deal We'll show you the cheapest car hire deals from local car rental companies operating via Phuket and Thailand.

Book the Best Deal Securely book cheap car hire, with the reassurance of free booking cancellations and amendments*.
Most Popular Hire Locations