Car Hire in Phitsanulok Airport (PHS)
Phitsanulok Airport (PHS) is located just south of the city of Phitsanulok, and is serviced primarily by Nok Air, with daily flights to and from Bangkok.
This makes Phitsanulok an ideal place to hire a car when visiting the area. CarHirePhuket.com provides travellers to this mid-country region with the widest selection of vehicles to choose from, and at the best rates in the province.
Start your search now by filling your hire dates and sit back while we compare real-time offers from top Thai rental providers operating at Phitsanulok Airport to find you the best hire deals for all classes of vehicles.
Budget Car Hire – Toyota Yaris

1.4 Litre, Automatic, Aircon, Radio CD Player, 5 Door, Seats 4

Executive Car Rental – Nissan Maxima

2.2 Litre, Automatic, Aircon, Radio CD Player, 4 Door, Seats 5

Luxury Car Hire – Mercedes E-Class

3.0 Litre, Aircon, Radio CD Player, 4 Door, Seats 5

7 Seat Car Rental – Volkswagen Touran

2.5 Litre, Automatic, 4WD, Aircon, Radio CD Player, 5 Door, Seats 7

9 Seat Car Rental – Toyota Van

2.5 Litre, Automatic, 4WD, Aircon, Radio CD Player, 4 Door, Seats 9
back to top
Pick-Up/Drop-Off at Phitsanoulok Airport
Car Rental Phitsanoulok Airport (PHS) – Hire cars with all car types available from leading Thailand rental companies at Phitsanoulok Airport:
Phitsanoulok Airport


5Phitsanulok Airport Road

,


Muang Phitsanulok

,


Phitsanulok

65000

,


Thailand
This Car Hire Phuket page contains the Phitsanoulok Airport (PHS) car rental location details. www.carhirephuket.com
CarHirePhuket.com permalink for this page: Car Hire Phitsanoulok Airport
back to top
Phitsanulok, One of the Oldest Cities in Thailand
Phitsanulok Airport (PHS) shuttles travelers to and from one of the oldest cities in the country, as Phitsanulok dates back some 600+ years, and is best known historically as the birthplace of King Naresuan, who freed Thailand from Burmese rule back in the late 16th Century.
Centrally located within the country, today's Phitsanulok is an important political and strategic hub, as it was once the capital of Thailand during the reign of King Boromma Trailokanat of Ayutthaya. Phitsanulok is home to several universities, as well as to one of the largest Royal Thai Army bases in the nation.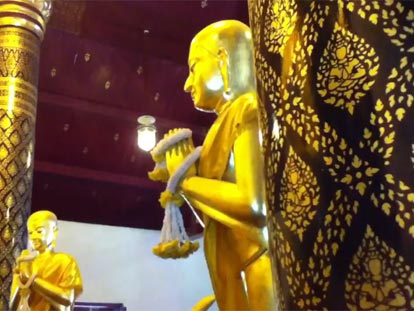 back to top
Things To Do in Phitsanulok
As a relatively conservative part of the country, Phitsanulok offers a look into old world Thailand, and does not sport the latest trends in technology and fashion as found in Bangkok and other cities of the modernized Thailand. So while shopping for the latest in mobiles and jeans may be out, here is list of alternative things to do in the area:
Visit the nearby World Heritage Site of Sukhothai. This site is a historical park that is a walled city about 2 kilometers by 2 kilometers with over 190 ruins dating back to the 13th Century and was the first capital of the Siam Empire.
To see how Buddha statues are cast these days, visit the Buranathai Buddha Foundry, which is a unique foundry in the province that specializes in the reproduction of bronze Buddhas – visitors are allowed to walk along the production line!
Another unique stop in Phitsanulok is the Sergeant-Major Dr. Thawee Buranakhet Folklore Museum, which houses a collection of folk art, local baskets and pottery, as well as other utensils to include antique traps used to catch snakes, tigers and porcupines.
For a more contemporary exhibit, see the Naresuan University Art and Culture Gallery for hundreds of artistic works from important contemporary Thai artists. Find other ideas and guides on Phitsanulok travel guide and Wikitravel Phitsanulok guide.
Events happening near Phitsanulok throughout the year
Phitsanulok is a place of river houses and where the older ways of doing business still prevails, so these events should be of interest for those wishing to learn more about the lifestyle:
Oct10
Dragon Boat Races
Wat Phra Si Rattana Mahathat, Phitsanulok
Annually during the first week of October
Watch as hundreds of amazing Dragon Boats compete, with each boat holding a crew of more then 25 oarsmen.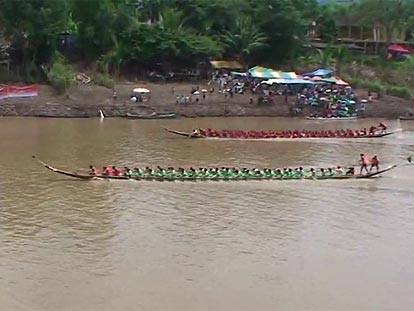 2023Dec
Suan Chom Nan Park Festival
Suan Chom Nan Park, Phitsanulok
Bi-annually
These festivals are held along the Nan River, and during which local food and products are easily had at great prices. Also highlighted are the regattas of long boats that traverse the river in celebration.
back to top
About Us
We have one goal - find the cheapest rental deals available in Phuket and Thailand. We compare all leading Thai providers in real-time to bring you the lowest rates. Find the best Phuket rental deal today!
About Us

How It Works

Car Hire FAQ

Contact

Manage Booking

Privacy Policy

Terms & Conditions

Interesting Sites
How to Hire
Enter Your Details Simply select your pick-up and drop-off dates and locations, and enter your age, currency and country of residence

Select the Best Deal We'll show you the cheapest car hire deals from local car rental companies operating via Phuket and Thailand.

Book the Best Deal Securely book cheap car hire, with the reassurance of free booking cancellations and amendments*.
Most Popular Hire Locations